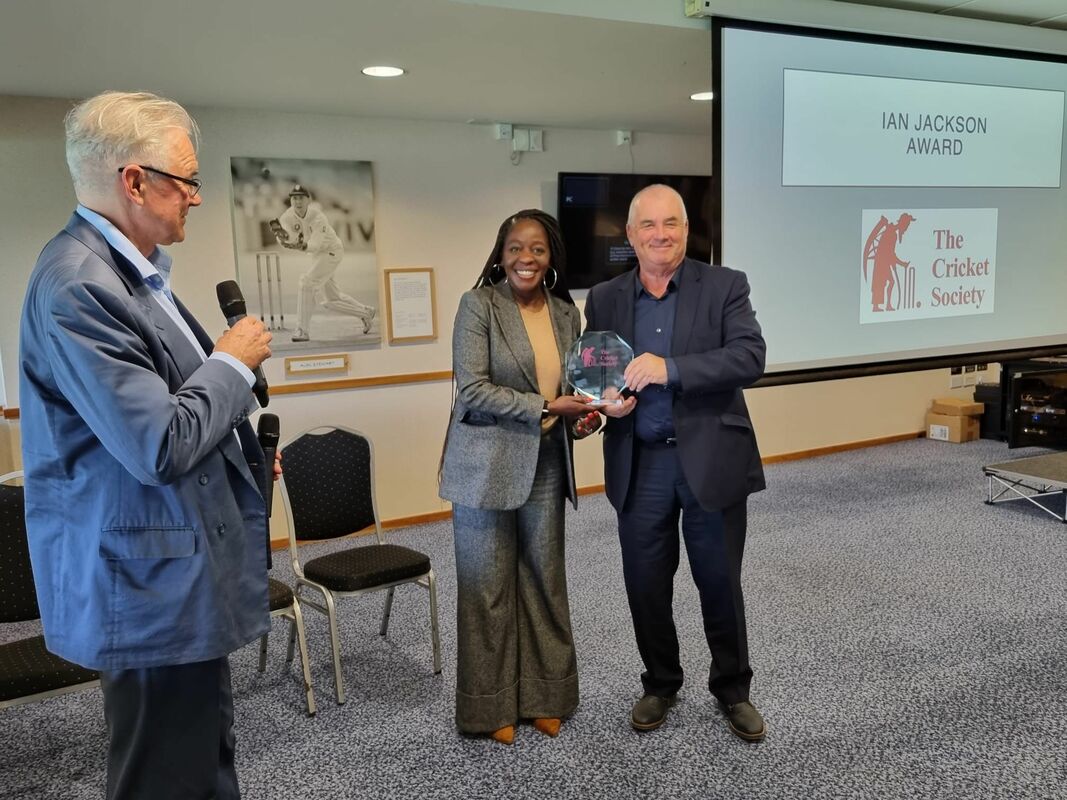 The Ian Jackson Award for Services to Cricket
2023 The Committee of the Independent Commission for Equity in Cricket
Recipients of this Award are chosen by the Executive Committee of The Cricket Society.
The award commemorates the memory of Ian Jackson, a former Chair of The Cricket Society, who died suddenly in 2008 after only a short period as our Chair. Ian had a strikingly enthusiastic attitude to life, with his love for and commitment to cricket shining through.
The award is effectively our 'Spirit of Cricket' Award and goes annually to an individual or group who, through their distinguished endeavours and commitment to cricket, have met the mission and spirit of The Cricket Society.
This year the Ian Jackson Award is given to Michelle Moore, Sir Brendan Barber, Michael Collins and Zafar Ansari, who collectively acted as the members of the Independent Commission for Equity in Cricket, together with their Chair, Cindy Butts. The ICEC report was commissioned in 2020 in response to the global uproar against racial injustice following the appalling murder of George Floyd by police in Minneapolis. Its investigation became even more topical later that year following the exposure of racism in Yorkshire County Cricket Club and the personal testimony of Azeem Rafiq on the racism he suffered as a player before the Select Committee on Digital, Culture, Media and Sport at the House of Commons.
While demonised in some quarters, to any right-minded cricket-lover the report produced by the ICEC reads as a measured and thoroughly researched history of discrimination in the game that we love. It is also a measured analysis of the current situation in cricket based on deep research among participants from all levels of the game and from a wide range of backgrounds. The report is to be admired for the way in which it eschews a heroes and villains approach in favour of promoting an understanding of the injustices of the past while proposing practical policies for a more equitable future. It is to the cricket world's credit that the Report has been accepted by the ECB and other stakeholders in the game, leading to concrete action to implement the Report's recommendations, of which there are 44, beginning to take place.
Its impact on cricket, however, will only become apparent in several years' time. But the need for reform is urgent. To paraphrase Sir John Major's Introduction to the Report: How much talent have we lost to cricket as a result of past injustice and how much will we lose in the future if we fail to change inequitable structures and practices in our great game? Anyone who loves English cricket - indeed anyone who loves cricket full stop - will raise a glass to the ICEC Commissioners for their ambition, for their clarity of vision, and for their embodiment of the true spirit of cricket, which is to make the team strong through generosity, hard work, humility and solidarity.
Past Winners
2022 - BBC local radio commentary teams
2019 - Enid Bakewell
2018 - John Holder
2017 - Charlotte Edwards CBE
2016 - Henry Blofeld OBE
2015 - Dennis Amiss MBE
2014 - Micky Stewart OBE
2013 - Mike Brearley OBE
2012 - Baroness Rachel Heyhoe-Flint OBE DL
2011 - David Frith
2010 - Dr David English CBE
2009 - Stephen Chalke