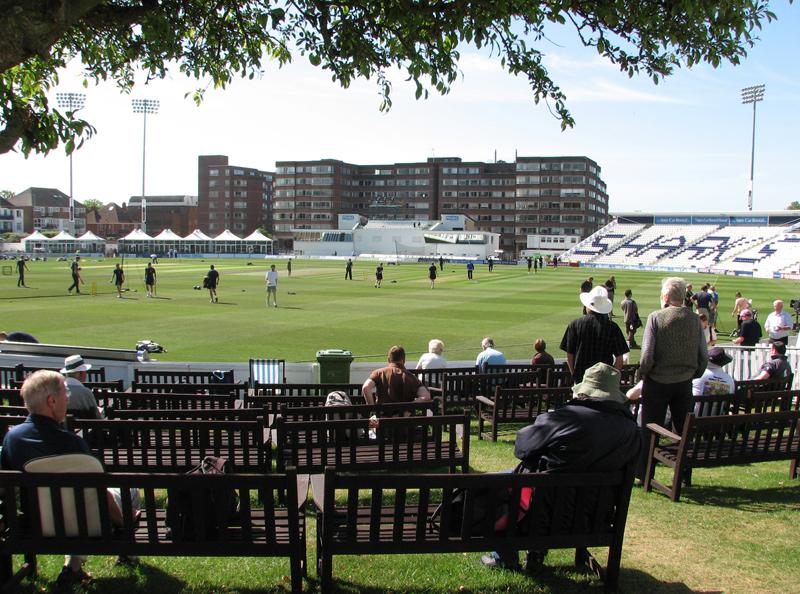 Cricket Society Latest News and Announcements
Day at the Cricket, Hove, Women's ODI, England v. India, Sunday, 18th September
The Cricket Society are hosting A Day at the Cricket for the Women's ODI in Hove. Full details and booking on our Events page. Join us for what's sure to be an action-packed day. Includes ground admission, glass of wine on arrival, pastries before match, two-course lunch & afternoon tea. Paid bar all day; car parking tbc.
Autumn London Events schedule announced!
Our London Events organiser Nick Tudball has confirmed a range of excellent speakers for the autumn 2022 with the former Hampshire cricketer and distinguished international umpire, John Holder the standout draw at the Union Jack Club on 12th December. Details below:-
Tuesday 25 October CSC AGM at 6pm followed at 7pm by author Richard Parry talking about his book (pictured above) Swallows and Hawke: England's Cricket Tourists, the MCC and the Making of South Africa 1888-1968 (free for members, £5 for guests)
Tuesday 8 November CSC at 7pm art historian Jasper Jennings with an illustrated talk: Early Impressions: Printed images of Cricket in Georgian England (free for members, £5 for guests)
Tuesday 29 November CSC at 7pm author Duncan Stone talking about his book Different Class: The Untold Story of English Cricket (free for members, £5 for guests)
Monday 12 December UJC at 2pm the former Hampshire cricketer and distinguished international umpire, John Holder, will talk about his life in cricket (£5 for members, £10 for guests)
Watch this space for further announcements on other speakers as they are confirmed.
Hat trick win for author (and Cricket Society member) David Woodhouse
David Woodhouse's Who Only Cricket Know, a riveting account of England in the West Indies in 1953-54 and much more, completed David's hat trick of cricket book wins. Our very own Derek Barnard, a cricket section Sports Book Awards 2022 judge, introduced the award. The judges - including our Vice President Sir Tim Rice - had all agreed that this was, 'the best cricket book for many years'.
Short-listees Vic Marks, Felix White and Mark Peel were all there. Michael Holding took two awards in succession for his 'Why We Kneel, How We Rise', bagging the Sports Writing Award and the overall Sunday Times Sports Book of the Year. The Cricket Society and MCC Book of the Year 2022 was the first award for David's book. It was also the choice of Wisden 2002's reviewer Vic Marks. Nominations for our 2023 Award, for cricket books published during 2023, may be made to [email protected]
Day Out at the Cricket in Beckenham
As part of the expanded coverage of the website we'll be posting brief reports on all the Society's events in our Events archive. Read about the Society's day out at the cricket in Beckenham here. Pictured above is the Society membership team of (pictured above L to R) Matthew Stevenson, Geoff Levett and David Seymour who met up for the first time in Kent.
Simon Mann spoke at our Spring Lunch in May, click through for more details and a poem Simon has shared with the Society on the sad early death of Shane Warne. Thanks to Chartplan Ltd. for prizes of £50 prize and sumptuous illustrated books. Members and their guests greatly appreciated an excellent event and Division 1 Championship cricket from a great vantage point.
The Cricket Society Trust
The Society's friends at the Cricket Society Trust have continued to support schools cricket throughout the pandemic and will continue to do so via the Fred Trueman State Schools League. Click through to their website to find out more about their work and how you can help to grow the game.
Stephen Chalke's recent interview with Scyld Berry is now available on our Publications page and can be accessed via this link.
New Journal Issue Out Now!
Members can now access the latest issue of the Society's Journal online, just click through to Publications and browse on your laptop, mobile or tablet.
2022 The Cricket Society/MCC Book of the Year Award winner announced!
This year's winner is David Woodhouse, whose Who Only Cricket Know: Hutton's Men in the West Indies 1953/4, wowed the judges with its fine research and elegant writing, telling the tale of the most controversial tour since Bodyline.
The other five shortlisted books were as follows:
- Evita Burned Down Our Pavilion: A Cricket Odyssey through Latin America, James Coyne and Tim Abraham, Constable
- Wilfred Rhodes, The Triumphal Arch, Patrick Ferriday, Von Krumm Publishing
- Hitting Against the Spin: How Cricket Really Works, Nathan Leamon and Ben Jones, Constable
- It's Always Summer Somewhere: A Matter of Life and Cricket, Felix White, Octopus Books
- Too Black to Wear Whites, The Remarkable Story of a Cricket Hero Rejected by the Empire, Jonty Winch and Richard Parry, Pitch Publishing
The other books considered were:
- Not Out at Close of Play; A Life in Cricket, Dennis Amiss, The History Press
- Beyond the Boundaries, Travels on England Cricket Tours, Scyld Berry, Fairfield Books
- A Tour but for the War, The story of the cancelled M.C.C. tour to India in 1939/40 and those due to participate in it, Guy Curry, Self-Published
- Myth-Busting: Indian Cricket Behind the Headlines, Gulu Ezekiel, Rupa Publications
- Boundaries, A Memoir, Roger Knight, JW McKenzie
- Late Cuts: Musings on Cricket, Vic Marks, Allen and Unwin
- Never Surrender, The Life of Douglas Jardine, Mark Peel, Pitch Publishing
- The Covers are Off, Civil War at Lord's, Charles Sayle, Wisden
The competition, run by the Cricket Society since 1970 and in partnership with MCC since 2009, is for books nominated by MCC and Cricket Society Members, and is highly regarded by writers and publishers. The 2021 winner was Ashley Gray's The Unforgiven, Mercenaries or Missionaries? The Untold Stories of the Rebel West Indian Cricketers who Toured Apartheid South Africa, Pitch Publishing.
There are no articles to display.